Our cosmetic expertise
---
SAFETY, EFFICACY, TRANSPARENCY: A STRICT COSMETIC FORMULATION CHARTER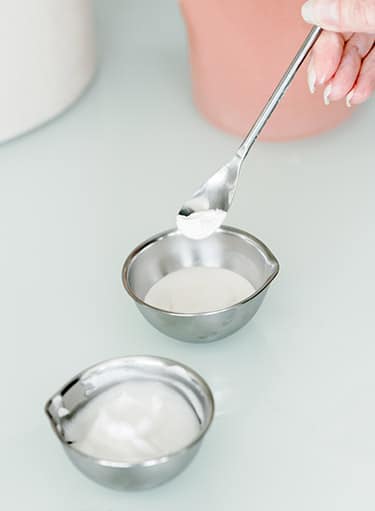 All our products are made with at least 95% ingredients that are naturally obtained. All certified organic Eau Thermale Jonzac® products are free of any raw materials that are potentially harmful to the health or to the skin or that do not follow eco-responsible production and transformation processes, including some of the following.
– Controversial ethoxylated emulsifiers (PEG, or Polyethylene Glycol); we use biomimetic emulsifiers such as lecithin.
– Controversial preservatives; we use a patented combination of molecules with preservative properties, our 3C complex® developed over 3 years of research, which improves formula tolerability and naturalness while remaining as effective as conventional preservatives.
– Mineral oils, obtained from petrochemistry, which are advantageously replaced by plant oils and fatty acids esters.
– Titanium dioxide, zinc oxide, silicon dioxide and other nanoparticulate ingredients, which are suspected to penetrate and diffuse into living organisms and which deleterious effects on phytoplankton and the marine food chain have already been identified.
– Synthetic dyes and chemical filters.
– Substances which have been proven or suspected to act as endocrine disruptors, in which case we feel required to apply an abundance of precautions.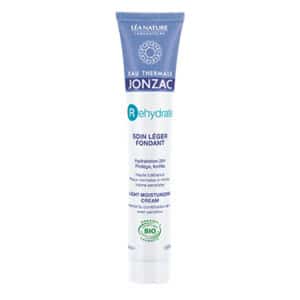 We have expanded this list with the addition of labeled allergens, which are banned from our formulas to the primary benefit of sensitive skins.
Our products for intolerant skin are always formulated without any fragrance. For other product types that may be scented, Eau Thermale Jonzac® has developed fragrances that are free of any labeled allergens.
Our products are formulated:
without any allegedly harmful ingredients,
free of any potentially irritating ingredients – sulfates*, alcohol, milk derivatives, peanuts, tree nuts, etc.,
contain no harmful ingredients in the fragrances, and never anything artificial,
free of GMOs.
NEW COSMETIC ACTIVE INGREDIENTS WITH A FAVORABLE ENVIRONMENTAL PROFILE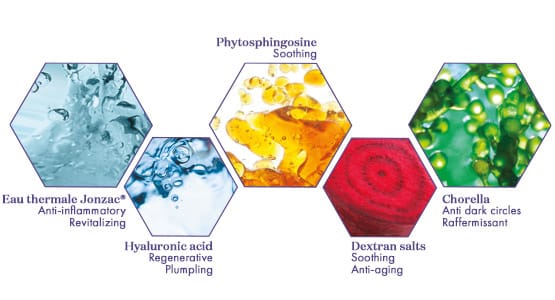 GREEN CHEMISTRY AND BIOTECHNOLOGIES
A fundamental value for us is to ensure that Jonzac thermal spring water, the leading natural active ingredient in our products, remains synonymous of cosmetic ingredients that are obtained through clean and earth-friendly processes that are focused on reducing their environmental impact as much as possible.
Thus, we use active ingredients obtained through biotechnologies (bacterial fermentation) or from plants thanks to supercritical CO2 extraction.
Our hyaluronic acid, phytosphingosine, dextran salt and chlorella vulgaris (micro-algae) extract are, for example, some of the ingredients found in Eau Thermale Jonzac products®.
Eau Thermale Jonzac® is proof that high performance cosmetics can also be certified organic.
We have chosen to develop certified organic dermo-cosmetic products without making any compromises on the high tolerance of our formulas or their effectiveness. Eau Thermale Jonzac® has filed six patents for its innovations.
The Protect 3C® Complex: an exclusive preservation system
The F. P. D. Patent: a thermal spring water encapsulation system for optimized hydration
The 3P Perfecting Complex: a system of active ingredients that act on the 3 factors resulting in the perception of perfect skin
The biomimetic hydration matrix*: a gel matrix network with biomimetic hyaluronic acid for boosted hydration**.
Cicathermale®: exclusive patented combination of Jonzac thermal spring water and Centella asiatica to promote skin repair
Deo-care patent: deodorant and skincare patent available as an eco-spray

HIGH TOLERANCE SKINCARE PRODUCTS that are dermatologically TESTED
To guarantee its safety, efficacy and sensory qualities, every Eau Thermale Jonzac product® is dermatologically tested.
Each newly developed formula is subjected to a series of rigorous tests.
The first step is to validate the new product's perfect tolerability, in particular for sensitive skin (Marzulli-Maibach method).
The effectiveness of the formula is then evaluated through clinical dermatological testing, the results of which serve to establish justifiable benefits for the skin (repair, calmed skin rashes, increased tolerance threshold for sensitive skin, etc.).
Each formula is also tested for its sensory characteristics and compared to reference products on the market. Depending on their destined use, our formulas are also tested as noncomedogenic.