The Léa Nature Group
---
Eau Thermale Jonzac belongs to the Léa Nature Group
LÉA NATURE is a family-owned, independent group that develops natural and organic health and food products, cosmetics, dietary supplements and household products.
Its mission is to contribute to making the planet more harmonious through healthful and tasty products that are respectful of mankind and biodiversity and through simple, strong and durable commitments.
As a committed and socially responsible company, LÉA NATURE believes equal efforts must be dedicated to its economic development, to social responsibility and to environmental conservation initiatives.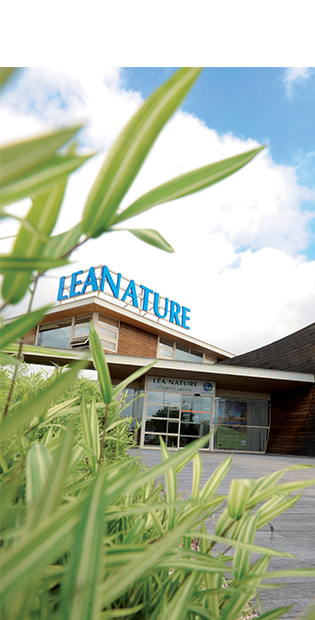 Laboratoire LÉA NATURE's Calling
Laboratoire Léa Nature offers healthful and savory food specialties in line with its belief in a more balanced world that is focused on human beings and biodiversity.  The company is humbly but strongly and durably committed to this belief.
LÉA NATURE is both committed and responsible and believes it should dedicate as many efforts to its economic development as it should to its environmental and corporate actions.  The headquarters of the company obtained the « Climate Commitment » and « Biodiversity Commitment » certification from Ecocert for the dynamic management of greenhouse gases and their impact on the environment.  The Corporate Social Responsibility (CSR*) practices of the company were rated as reaching a level of Excellence by ECOCERT 26000.
The headquarters, based in Périgny, near La Rochelle, were built in line with the values of the company, and feature ecological building materials as well as renewable sources of energy.
LÉA NATURE is one of the leading French donors of the 1% for the Planet Club
This is an international initiative supported by 1,200 companies that donate 1% of their total sales to support 3,000 environmental conservation nonprofits.
LÉA NATURE brands support projects focusing on:
facilitating the development of sustainable small farming (organic agriculture, agroecology, permaculture, etc.);
fighting against the main obstacles to sustainable farming (GMOs, pesticides);
reforestation and biodiversity conservation.
Since 2007, the LÉA NATURE Group has donated over 6 million Euros to environmental associations.