Anti-rougeurs
---
Reducing the root causes of redness
The soul mate for skins prone to redness
Did you know that two out of three women say that their skin is "sensitive" to external irritants?  But what exactly does sensitive skin mean?
How do you know if your skin is sensitive?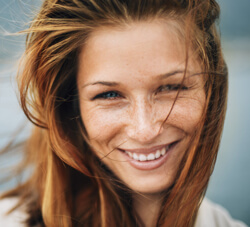 Sensitive skin is delicate and has a low tolerance level.  A number of factors can cause irritation:
Physical factors: hot or cold air, hard water, air conditioning, etc.
Psychological factors: stress, emotions, etc.
A bad reaction to a cosmetic used recently
Food intolerances, etc.
Whether you have dry, combination or oily skin, any sensitivities show up immediately.  This phenomenon generally leads to dry skin that is red or irritated.  This skin type requires specific attention and adapted care that is not harsh.  Eau Thermale Jonzac® is pleased to introduce you to the best beauty routine for sensitive skins.
The EAU THERMALE JONZAC® Anti-rougeurs line, the sensitive skin's best friend.
To prevent and reduce the factors responsible redness directly at the source, the anti-rougeurs line contains 3 active ingredients:
CHLORELLA
Chlorella is a green microalgae that is loaded with amino acids and oligopeptides.
How chlorella acts on your skin: it reduces the appearance of small blood vessels.
---
GINKGO BILOBA leaves
Ginkgo leaves are used in Chinese traditional medicine.  The World Health Organization (WHO) has recognized the use of gingko biloba to treat vascular symptoms related to peripheral arterial resistance.
Gingko biloba leaves contains high levels of active ingredients that are renowned for reducing redness:  these are mainly flavonoids, terpenoids such as ginkgolides A, B and C and bilobalides.
> Ginkgo biloba leaf action on the skin: it reactivates skin microcirculation and reduces temporary redness.
---
PHYTOSPHINGOSINE
Phytosphingosine is naturally present in the skin.  It is a biomimetic active ingredient.
> How phytosphingosine acts on the skin: it is renowned for its calming virtues and contributes to reducing reactions that are visible on the surface of the skin.
---
These active ingredients instantly calm irritation while intensely nourishing the skin and relieving discomfort.
Sensitive skins can stop blushing about being si sensitive!
Thanks to formulas that are adapted to all skin types, the new line of Anti-Rougeurs skincare immediately provides long-lasting relief from heat and tightness.  The reappearance of temporary redness is limited thanks to the reactivation of the skin's microcirculation.  To this end, Eau Thermale Jonzac® has specifically developed 3 skincare products responding to various needs:
Eau Thermale Jonzac® Anti-Rougeurs Soothing Light Cream hydrates, while preventing and reducing temporary redness for normal to combination skin.
Eau Thermale Jonzac® Anti-Rougeurs Soothing Rich Cream nourishes, while preventing and reducing temporary redness for normal to dry skin.
The added extra found in both of these products: they contain green mineral pigments that immediately reduce skin redness.
Eau Thermale Jonzac® Anti-Rougeurs Soothing Tinted Cream not only reduces and prevents redness, it also conceals red patches thanks to its natural tint.  This product is adapted to all skin types.

These sensitive skin products are also fragrance-free, formulated to minimize the risk of allergic reactions, dermatologically tested and certified organic, of course!
What are you waiting for to show off your radiant skin with our all new Eau Thermale Jonzac® Anti-Rougeurs Line?